Wavelight® Infinity SEG Light Box Display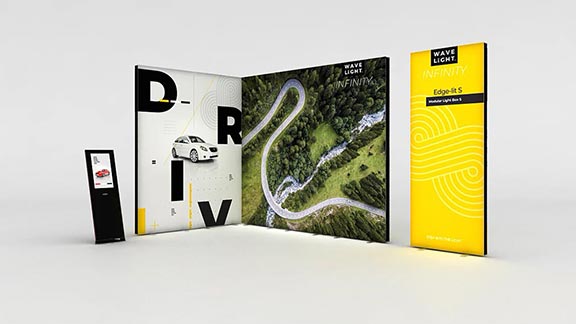 360º Modular LED Light Box Display
The WaveLight® Infinity is the first ever continuous Edge-lit SEG Modular Light Box Stand. Using a new patent pending Edge-lit SEG – when connected together in a modular fashion, the Infinity light display's graphic seemingly disappears to the eye to create one continuous Infinity image and a completely immersive graphic experience.
It is also one of the thinnest light boxes avaialable at the moment. With a slim 85mm profile you will be making the most of teh floorspace in your booth.
The new WaveLight® Infinity is a reliable LED light box frame can be used as a stand-alone display, connected together or wall-mounted.
The WaveLight® Infinity comes in a standard width of 950mm x 85mm deep and is available in 4 heights:
XSmall - 1360H mm
Small - 1600H mm
Medium - 2000H mm
Large - 2440H mm
Each display comes as a kit which includes the following components:
WaveLight® Infinity Flat Frame with built-in LED Lighting and feet
72W Power Supplies in Soft Moulded Carry Cases
Set of Single or Double-sided Back-lit Graphic Prints – a vibrant, recyclable and wrinkle-resistant polyester stretch fabric with sewn-in silicone edge insert.
Ships in CA700 Hard Case
With a lifetime warranty on the hardware and 1 year on the fabrics you can't go past the WaveLight® Infinity light box display system.
We can also make custom sizes if required although it does increase the lead time - Please contact us to find out more.
Get in touch with one of our experts