Strideline is the world leader in comfortable, quality printed socks.
Quantum Marketing are now bringing these printed socks to corporate business across Australia. With a range of different styles and lengths available - if you are in business and are looking to impress your clients or simply fit out your staff then get in touch with the team today.
We offer these socks custom printed with your company logo, brand and colours!
A fantastic way to get your brand standing out above the clutter and turning those prospects into clients time and time again.
The Most Comfortable Sock On Earth
Do you have a design in mind...? We'll have your FREE virtual proof back to you within 24 hours.
WARNING: we only supply businesses, organisations and schools to use these socks to promote their business, for staff use or for student recruiting in schools.
We DO NOT supply for individuals or private school classes etc.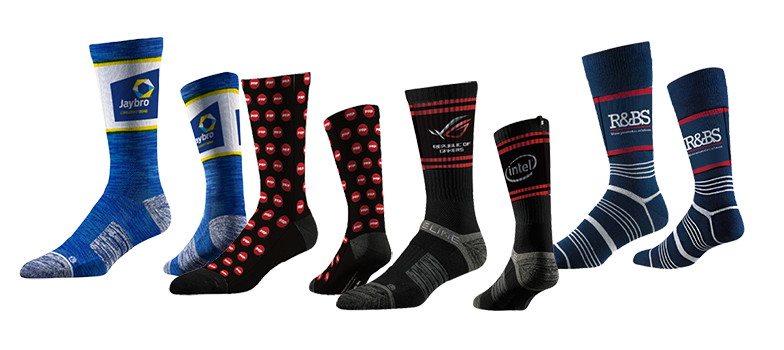 Get in touch with one of our experts to get pricing and product options or recommendations.


Our high quality promotional socks are available in three different styles.
Free set-up - Free delivery in Australia and Free designs...! It can't get any easier could it?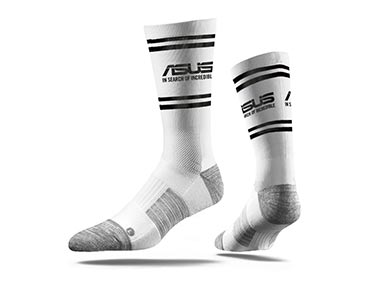 Most popular is our standard printed range - these are available in Premium, Classic and Business. Click here for an overview on the different styles and what is best for your application.
How much of the sock can i customise with my colours and logo?
All of the standard printed socks have a multi-coloured design area that is 89mm wide x 114mm high. This is the space we apply our digital ink production process to that allows us to create beautiful, fully customised, PMS colour-matched designs.
The rest of the sock is a pre-knit base and cannot be altered.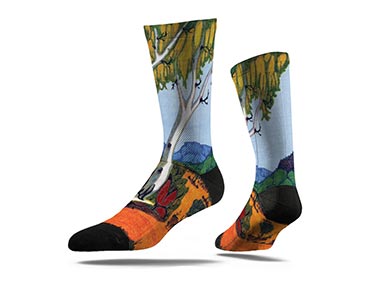 Sublimated and Economy Socks
The second style is the Full Sublimated and Economy.
These are a cheaper alternative to the standard printed socks but are economy in price only - not quality! Rest assured these are still the same great quality Strideline product that you wont be disappointed in. Some of the extra features have been removed making them easily affordable for every situation.
How much of the sock can i customise with my colours and logo?
With the full sublimated socks - you can print your own design over the entire sock apart from the heel and toe sections. The One Press sock has the same design window as the standard printed styles of 89mm wide x 114mm high but only gets printed on the outside of each sock.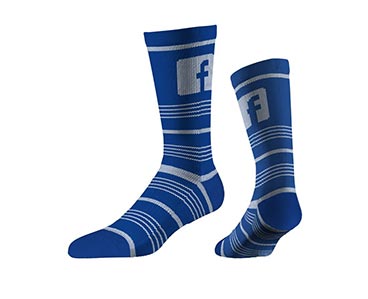 Although these personalised socks are manufactured overseas - we are still able to have them delivered in Australia as soon as 2 weeks from order! Standard lead time is 4 weeks - 2 week is available with a 20% surcharge
Why Strideline and Why Printed Socks...?
MOQ | The minimum order quantity for promotional branded socks...!
We are here for all clients - Both small and large
The number of packaging styles available. All socks come standard in a clear polybag.
Increase your brand identity with a custom printed cardboard swing tag. Give your presentation a retail quality look and feel.