Wavelight® Casonara SEG Light Box Display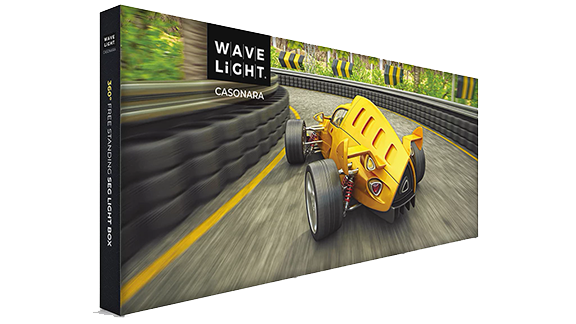 360º Stand Alone LED Light Wall Display
Breathe new light into your brand, exhibit, event or retail shop with the WaveLight® Casonara SEG Light Box Display. This pioneering new SEG tension fabric light box is designed to make backlit graphics more portable, modular and customizable. Our 360º illumination technology provides more visibility for your brand and more places to present your ideas.
Colour-coded frames make it super simple for anyone to assemble without any tools – or breaking a sweat.
The WaveLight® Casonara is available in 5 sizes:
4ft - 1000W x 2440H x 350D (mm)
6ft - 1780W x 2440H x 350D (mm)
8ft - 2440W x 2440H x 350D (mm)
10ft - 2950W x 2440H x 350D (mm)
20ft - 5960W x 2440H x 350D (mm)
Each display comes as a kit which includes the following components:
WaveLight® Casonara Flat Frame
LED Light Arrays in Soft Molded Carry Cases
400W Power Supplies in Soft Molded Carry Cases
Set of Single or Double-sided Backlit Graphic Prints – a vibrant, recyclable and wrinkle-resistant polyester stretch fabric with sewn-in silicone edge insert.
Ships in CA700 Hard Case
With a lifetime warranty on the hardware and 1 year on the fabrics you can't go past the WaveLight® Casonara light box display system.
We can also make custom sizes if required although it does increase the lead time - Please contact us to find out more.
Get in touch with one of our experts

Wavelight® Casonara SEG Light Counters
The amazing design of the Wavelight® Casonara wall is also available as a counter completing your trade show display to perfection.
The counters use the same colour coded components making it very easy to set up and dismantle as well as keeping them lightweight and very portable.
Light up your brand on all four sides of the counter!
Available in 5 sizes as well - all at 1050mm high:
50M - 500W x 500D (mm)
100M - 1000W x 500D (mm)
100L - 1000W x 1000D (mm)
200M - 1975W x 500D (mm)
300M - 2950W x 500D (mm)
Send us a message now
to get pricing, templates and free 3D mock-ups