Waveline® fabric trade show display systems
Waveline® Fabric Display Systems are for the budget conscious and are easy to use and make versatile back drops for trade shows, conferences and expo events. They are one of our most popular display walls due to the lightweight and easy installation as well as the ability to customise to whatever you require.
One-piece high colour dye-sublimated fabric graphic (no seam line)
Fabric graphics can be easily swapped
Eco-friendly tensioned fabric graphic gives the impression of a solid wall (no creases!)
Optional branded counters available to compliment your stand and provide a sales station
Durable hardware with 2-Year Warranty
No-tool easy setup - (For the standard systems)
Comes standard with padded carry case with the option to purchase a hard case for better protection and ease of transport
Optional double-sided fabric skins available so your design can be viewed from all angles
Custom sizes and shapes available
Learn More
Check out the full range of standard fabric displays
How it Works:
The Waveline® System uses a light aluminium framing system which is wrapped in a quality fabric "skin". The fabric fits tightly around the frame and secures with a zip running down one side. This creates the perfect tension in the fabric to give a smooth, curved finish.
Lightweight and Easy-to-Assemble:
Packed into the carry bag, the 3m Waveline® Curved weighs only 12 kilograms. Putting the frame together only takes one person no more than five minutes, and all that's left to do is slide the printed graphic over the outside. No tools required.
Different Prints? Different Skins!
If you have the type of business in which you need to change your graphics as you go from event to event, the Waveline® makes it easy as well for you. With a single frame you can simply slide your new or replacement graphic over the top, providing even greater value and versatility.
The Wavelight® backlit displays are the perfect way to stand out in a busy trade show crowd and attract your prospects. Very easy to set up, pack down, and transport, our portable back lit display walls are essential for any company that wants to generate more attention.
LED backlit displays have increased dramatically in popularity in recent years – and it's easy to see why. Trade show exhibitors have been able to use these backlit display stands with great success, with their marketing messages shown on these eye-catching walls.
Labelled as the 'future of visual display marketing', with backlit tension fabric displays, your company can create any tone, mood and atmosphere to suit your message. We also understand that your company likely has more than one product or service that you're offering, so one of the best things about these backlit display stands is that with only one frame, you can use different graphic fabric designs. Adapt your marketing to each event and prospects, and you'll see your success grow. Alternatively, with our range of sizes, you can use multiple backlit portable displays at once, each showing a different message.
Use our backlit trade show displays by themselves, or pair them with our other fabric displays, and your business is sure to steal the show. Whether you've got the biggest event of the season, or you simply want to make your lobby look its best, use our portable backlit displays to see how they can help your marketing campaign.
Waveline® Counters & Cases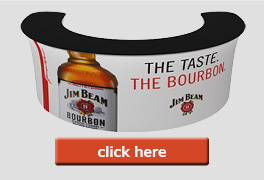 Waveline® carry cases and convertible counters - We offer a wide variety of counters to work in any trade show application.
Our Waveline® counters are a great solution for exhibitors on a budget and there are also several shipping cases that convert to counters so not only do you get a counter but you can also ship trade show items in the case!
The majority of our counters are produced in 3-5 business days so we can meet any show date! With a host of size options you are sure to find the right solution however, we do have the ability to customise counters to almost any size or specification upon request.
Waveline® accessories offer the perfect ways to spice up your trade show display. We have items like the Waveline® Inflatable Bench - a fantastic way to create a seating arrangement in your area, or the monitor stands and holders, allowing you to add screens for videos or other digital interactions.
AuraScape RGB Light Bars are another great way to add more colour to your standard Waveline® tension fabric wall.
Waterfall shelving options allow you to convert your display into a true retail like experience - adding shelving, hanging racks or TV screens to your display.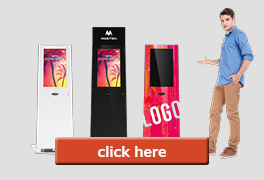 Makitso digital kiosk and tables - The next generation of interactivity is now here!
When you have an online app or interactive website - the blade Kiosks are the perfect way to keep your visitors engaged and talking about your brand. Freestanding and a huge size range available you can talk to us about your specific needs.
With the cheapest price tags in the digital industry, these digital kiosks are for the serious business who really wants to make a great first impression. Prices start at around $2,500 for the floor standing or $900 for a desktop Mini Blade and go up to $10,000 for the largest digital interactive slab table.
Waveline® Outdoor Poster Stands
The WaveLine® Outdoor Poster Stand is a portable advertising sign perfect for outdoor use at events, exhibitions or retail environments. When used as a double-sided sidewalk sign, this outdoor sign is great for attracting customers passing by.
The double sided printed fabric graphic stretches around the 50m aluminum frame which fits into a durable plastic water base.
Available in two heights. - 1200mm and 2000mm
Each kit includes:
Lightweight 50mm Aluminium Frame - 850mm wide.
Fabric Graphic Print
Bubble Base - 635dia x 155h (mm)
Optional - Base can be supplied with a printed fabric to further enhance your branding.
Get in touch with one of our experts