Custom Promotional Merchandise. Quantum Marketing have a huge selection of quality promotional products that can be used for corporate gifts, sales incentives and thankyou gifts.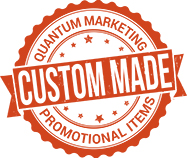 Everyone know the power of promotional merchandise. They give your brand numerous advertising impressions, long after you've handed out the item to your prospects and clients. The key with promotional products is that you want to be remembered. This means the more creative, unique, and usable the better.
But what if you need somthing now... you don't have the budget for a full custom item or a need for 1000+ units? Stay with us! Follow this link to see how we are still able to help.
Clients approach us for ideas at every stage of their marketing process. From years prior to right up to days before a deadline. They look for imaginative and innovative ideas to help achieve their promotional marketing goals.
It's clear to see why. Uniform and common branded items don't fly with the forward-thinking audience —they need more personality, more wow-factor.
With our network of both offshore and local manufactures combined with our innovative and foward thinking design teams we have the ability to provide unique and custom promotional products. Products that will take your brand to the next level.
Don't know how branded merchandise works? Trust us; you'll have many uses for your promotional products.
Our branded merchandise can be used in (but are not limited to) the following ways:
Gift with purchase promotions
Trade show giveaways
Brand awareness
Loyalty gifts
Staff and customer incentives
Sponsorship and event merchandise

Download our Free Report!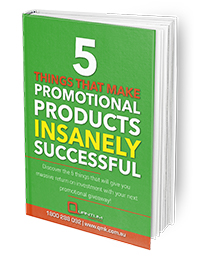 Discover the 5 things that will give you massive return on investment with your next promotional giveaway!
Fast Turnaround Promotional Products
We get it that there are many companies who are starting out or don't want or need to invest large amounts of cash in handing out promotional products.
That's why we offer thousands of innovative and useful items that can all be either printed, embroidered, engraved or labeled in some way to help you get your brand out there in an affordable and practical way.
Many of the items are available with a 2-day lead time, and most are within 2-3 weeks.
With over 20 years experience in the printing and marketing industry, you can trust us to deliver on your expectation and protect and drive your brand forwards.
Browse Our Promo Catalogue Online
Before you go and spend hours randomly browsing thousands of different promotional products, why not find out how we can help first?
We have given you all the links below, however we strongly recommend booking in a FREE short strategy session with one of our team who can talk through your challenges and guide you to the right products that suit your company and budget.
See how we've done it for others...