ISOFrame – 12 Panel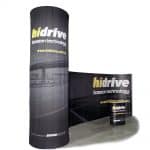 A very versatile system – we ordered a 12 panel system that we have used at a number of expos now,  it has been so easy to use and with its amazing flexibility, it very quickly fits into any space we have.
The way it packs into 2 carry bags that fit into our car and can be set-up by one or two of us is a bonus as well!
Saving us a lot of money on the normal transport and set-up fees that we would've normally had.
We are happy to recommend Quantum Marketing to anyone that wants a hassle free expo experience.