Get your message across and make a strong statement for your brand or enterprise.
---
The Cube that moves the world.
Rubik's Cube has the power to captivate, to fascinate, to challenge people. So much more than merely a toy, Rubik's Cube is a classic.
In a success story spanning three decades, it has inspired fashion and other designers, artists, mathematicians, and millions of cubers from Alaska to New Zealand. The perfect marriage of fine form and flawless function, this magical cube is modern-day style icon.
AUTHENTIC RUBIK'S CUBE®
---
You have found one of the official Rubik's Cube suppliers with Australia wide coverage for the promotional industry. Buying the original Rubik's Cube ensures your merchandise will not be seized by customs authorities.
---
CUSTOMIZABLE
---
All Rubik's products are fully customizable with your company logo, text or images. In this way, you create your own unique gift with the aura of the original and brilliant idea from Erno Rubik.
---
QUALITY
---
We deliver high quality Rubik's Cube® using with superior printing and hand-labelling ensuring you give a best and long-lasting impression. We can even provide premium packaging, boxes and stands if you require.
---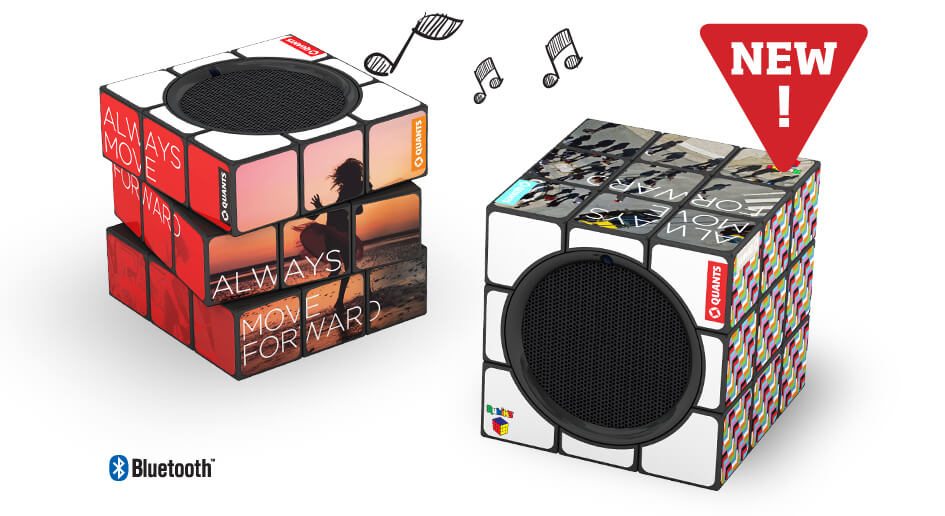 Bluetooth Speaker
Let clients tune into your brand with this iconic mobile accessory!
Both fun, and practical, the Rubik's Bluetooth Speaker plays your favorite tune on the go, all the while catching looks and associating your brand to values of creativity, success, smarts, problem-solving…!
All the while, the large branding surfaces gives you ample space to communicate with any imagery, branding elements or messages.
Features
Offset printing
Power: 3W
Size: 7 x 7 x 7 cm
Optional: Microfiber Pouch
Packaging: White box
There is no time like right now
Ask us for pricing and options today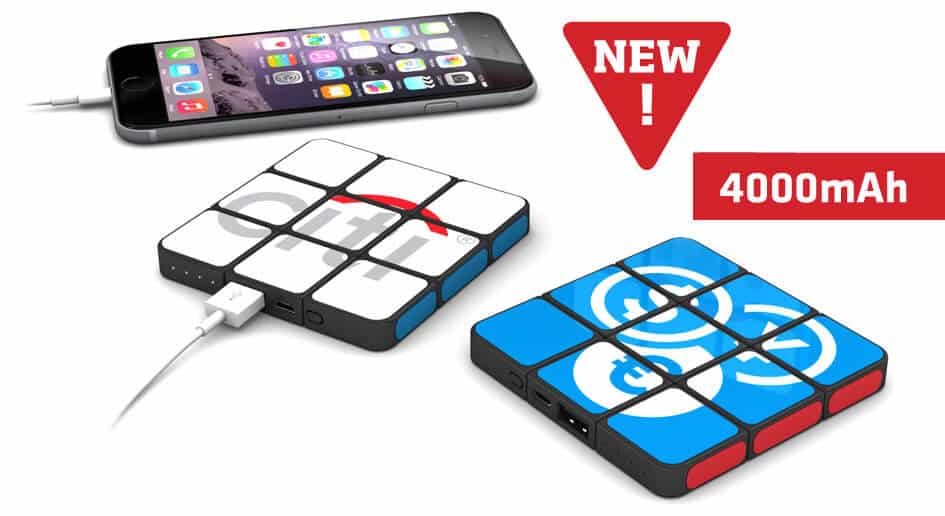 4000mAh Power Bank
Gets your mind & your mobile devices going, all day long
Fun and Handy– Power your devices everywhere you go.
Fully customized by 4-color printing.
Up to 4000mAh capacity
Size: 89 x 89 x 12mm
Features
Grade-A 4000mAh Li Polymer battery
Cable for recharge provided
Material:, black ABS + label
RoHS compliance, CE-EMC, FCC certification.
Lead time / Delivery time: 21-30 days for production
Looking for the standard Rubik's range…?
Follow us over here!
[gravityform id="8″ title="true" description="false" ajax="true" tabindex="1″]